In the autumn of 1977, Vlasta Pokrivka made a puppet called Moon. A gold-plated gourd head, a silk-colored fabric, a bright thread, a narrow silver ribbon, three wrists and a few small pieces make up all the stuff the puppet is made of. Despite its simplicity, it was noticed immediately because of its great sense of expression and a special stage energy.
Already in the first encounters with the Moon, children and adults showed unusually deep and strong emotions. The impressions were positive, very pleasant. Sometimes with fear and discomfort. The organized theatrical encounters with the puppet Moon soon started to play at a school for educators, at the Pedagogical Academy, then at other schools, colleges, gatherings of children, smaller scientific conferences, or conducted them as individual encounters, all in the name of research.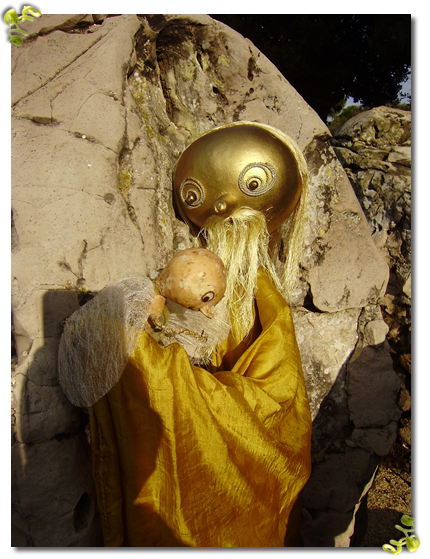 The Puppet Moon, and later the Queen of Peace with which the same kind of research is being carried out and conducted, illustrates the very essence of puppetry, which is, in a very beautiful and poetic act of reviving the inactive substance through the actor-puppet.  About the scope of research is the fact that so far around 20,000 records (posts) of people or children who have been touched by this phenomenon have been collected. Lots of doctors, psychiatrists, artists, priests have been introduced with this experiment ... A few writers have been encouraged to write original works of art for children and adults, under the impression of a puppet encounter.
Nada Zidar-Bogadi wrote a collection of children's songs MJESEČEV SIN, and then a collection of haiku NIKAD BLIŽE MJESECU.
Tin Kolumbić has published in the magazine Joy of the Moon, after the meeting with the puppet Moon, two stories: I was visited by the Moon and the Fable of the House.
Maja Gjerek-Lovreković was directly inspired to write a collection of spiritual songs of the Moon Card and more stories for children.
Vesna Krmpotić wrote a book that is a psychological-poetic-philosophical study based on documentary material called Love That Moves Towards Us.
Marija Dabić wrote her first cycle of spiritual poetry after the meeting with the puppet.