The puppet exhibition "The Pumpkineers – puppets that grows in field"
Puppet  Studio Kvak is organizing exhibitions of Vlasta Pokrivka's puppets created during the 46 years of  the theatre existence. All the puppets are made of dried gourds, fruits that abound in these regions, so they are very interesting for the public in the Croatian area, but also specially for the auditorium of the European countries where the gourds do not grow because of the lack of sunlight.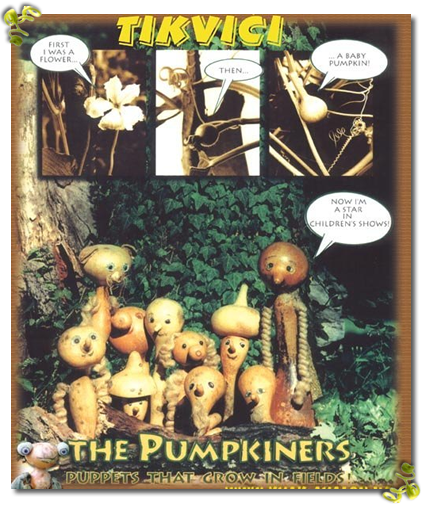 We shape what nature has given us, with minimal additions (always from natural materials) and we let it talk through our Pumpkineers  all about itself,  which we sometimes forget in the whirlwind of life.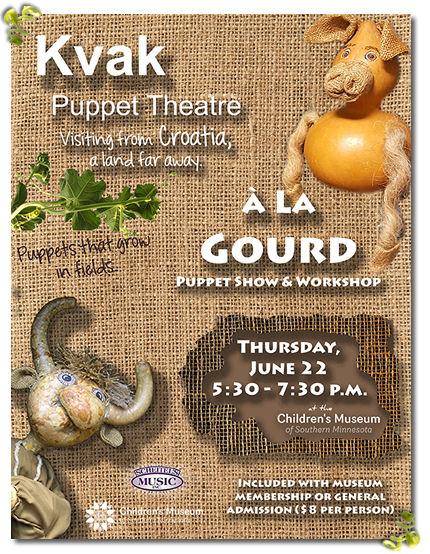 The exhibition contains lots of puppets and small scenes in which we see how Pumpkineers grows, laughs and solves problems.
Photos by Saška Mutić
Reviews...
"The exhibition" of Vlasta Pokrivka "- an extremely unpretentious and valuable piece of art where the elementary theatrical activity and the art of upbringing approach to the youngest, are connected to the dynamic ensemble, is so original and imaginative that it could inspire under the title" Scene Dolls "at the Croatian School Museum in Zagreb. This impression left the performance of the "Kvak" Lecture Theater performed at the Dollhouse Museum and directed by Vlasta Pokrivka, who also performed behind the parade together with five great puppeteers. The climax of simplicity and expressiveness won with a modern sensibility and a rejuvenation of freshness. "
(Marija Grgičević, theatre critic)
"Puppets made in theatre Kvak are the result of the relationship to the material as it has a carving that holds lightly in the hands of an unfinished ivory, turning it now to the other side, they whispers: Who are you, who is hiding here? When they are joined to a new shape, the formative self-sufficiency of each individual disappears and remains, there is no one, and from unique shapes it builds a new uniqueness: the personality of a puppet, in which the unique shapes of the zigzag are functioned - they are recognized and fixed in their aspect which, so isolated, gains intensity and builds the meaning of the matter. The nature remains unchanged in weight, color, surface but have changed by combining it with the key to fixing the center of gravity from which the puppet is initiated and driven. It is the same when the puppet is made of a tick: the center of gravity is established by inserting a stick or, simply, with a hand holding one end of a stick. Tearing them in one position, they collects all the abundance of their manifold into a new form that is fed with such abundance. The existence of puppets helped by "figurative" details (eyes, hair ...) made of other materials (of regular natural origin), but the best ones are those puppets with less details, in which the personality of the puppet did not cancel the uniqueness of the nature strength...
(Jadranka Janda, prof.)